Technical data
Optical data:
Light distribution:
symmetrical or asymmetrical
Type of source:
built-in LED source
Lenses available:
10°, 20°, 30°, 40°, 60°, 45x10°
Other data:
On request:
DALI, ON-OFF, manual potentiometer
Application:
retail, museums, residential facilities, restaurants, hotel facilities
Downloads
Product description
Design of PULO projector gives high functionality and original look. Because of asymmetrical light distribution, luminaire provides wall-washing effect, that's very impressive way of illumination. The luminaire is perfect for accent lighting of a product, exhibit or presentation area. Control: on/off, manual, DALI. Mounted on a magnetic track (48V).
Available product colors
Standard:
white cold

white warm

light grey

grey

anthracite

black
C – choose color
L – lenses
10 – 10°
20 – 20°
30 – 30°
40 – 40°
60 – 60°
41 – 45x10°
A – asymmetric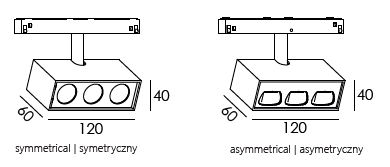 | Catalogue code | Light source | Light flux | Power | Color temperature | CRI/RA | Weight | Dimensions | Box dimensions |
| --- | --- | --- | --- | --- | --- | --- | --- | --- |
| 21049.2LC | LED | 1150lm | 9W | 2700K | ≥90 | 0,6kg | L=120, W=60, H=40mm | 180x180x100mm |
| 21049.3LC | LED | 1150lm | 9W | 3000K | ≥90 | 0,6kg | L=120, W=60, H=40mm | 180x180x100mm |
| 21049.4LC | LED | 1150lm | 9W | 4000K | ≥90 | 0,6kg | L=120, W=60, H=40mm | 180x180x100mm |