Technical data
Mechanical data:
Mounting:
modular ceiling
Technical data:
Light distribution:
symmetrical
Contains light source:
YES
Other data:
colour rendering index:
CRI≥80
On request:
CRI>90, CASAMBI, ActiveAhead
Product description
The ML luminaire is characterized by a very light structure and simple and quick assembly. The body is made of steel, painted white. A choice of two colors of the reflectors: white and black. ML includes an optical system that has been developed to ensure maximum lighting efficiency in the workplace while effectively reducing the unwanted glare effect UGR <16. Two color temperatures to choose from: warm (3000K) and neutral white (4000K), CRI≥80 (on request: CRI≥90). Standard dimming: ON-OFF, Dali (Casambi, ActiveAhead on request).
The luminaire is used in demanding offices, conference rooms, lecture halls, and therefore wherever work comfort into its efficiency.

mounting hole: max.585x585mm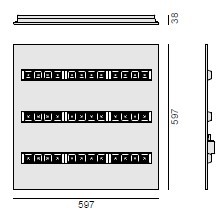 | Catalogue code | Light source | Luminaire light flux | Power | Color temperature | CRI/RA | Weight | Dimensions | UGR |
| --- | --- | --- | --- | --- | --- | --- | --- | --- |
| 3011.103.50C | LED | 3813lm | 28W | 3000K | ≥80 | 2,6kg | 600x600x48mm | <16 |
| 3011.104.50C | LED | 4057lm | 28W | 4000K | ≥80 | 2,6kg | 600x600x48mm | <16 |
| 3011.203.50C | LED | 4094lm | 28W | 3000K | ≥80 | 2,6kg | 600x600x48mm | <17 |
| 3011.204.50C | LED | 4355lm | 28W | 4000K | ≥80 | 2,6kg | 600x600x48mm | <17 |
| 3011.103.80C | LED | 3733lm | 28W | 3000K | ≥80 | 2,6kg | 600x600x48mm | <18 |
| 3011.104.80C | LED | 3971lm | 28W | 4000K | ≥80 | 2,6kg | 600x600x48mm | <18 |
| 3011.203.80C | LED | 4134lm | 28W | 3000K | ≥80 | 2,6kg | 600x600x48mm | <19 |
| 3011.204.80C | LED | 4398lm | 28W | 4000K | ≥80 | 2,6kg | 600x600x48mm | <19 |
| 3012.103.50C | LED | 5338lm | 38W | 3000K | ≥80 | 2,6kg | 600x600x48mm | <17 |
| 3012.104.50C | LED | 5679lm | 38W | 4000K | ≥80 | 2,6kg | 600x600x48mm | <17 |
| 3012.203.50C | LED | 5732lm | 5732lm | 3000K | ≥80 | 2,6kg | 600x600x48mm | <18 |
| 3012.204.50C | LED | 6098lm | 38W | 4000K | ≥80 | 2,6kg | 600x600x48mm | <18 |
| 3012.103.80C | LED | 5226lm | 38W | 3000K | ≥80 | 2,6kg | 600x600x48mm | <19 |
| 3012.104.80C | LED | 5560lm | 38W | 4000K | ≥80 | 2,6kg | 600x600x48mm | <19 |
| 3012.203.80C | LED | 5788lm | 38W | 3000K | ≥80 | 2,6kg | 600x600x48mm | <21 |
| 3012.204.80C | LED | 6157lm | 38W | 4000K | ≥80 | 2,6kg | 600x600x48mm | <21 |