Technical data
Optical data:
Light distribution:
symmetric
Other data:
Contains light source:
yes
Application:
office buildings, private residences, hotels, public buildings, museums
Product description
Longitudinal, recessed DISCOVERY WALK profile luminaire. Its construction and the components ensure high mechanical strength and resistance to water and dust. It is designed for illumination of building facades, paths, arbours and monuments.
Available product colors
Standard:
cold white

warm white

light grey

grey

grey graphite

anthracite

black
Lightsource: LED
C - color

L - lenses
​10 - 10°
25 - 25°
40 - 40°
60 - 60°
61 - 30x60°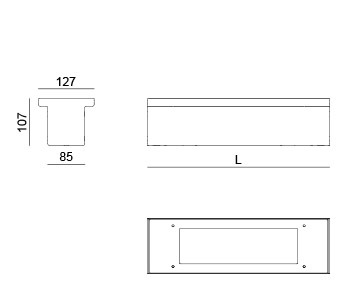 | Catalogue code | Light source | Light flux | Power | Color temperature | CRI/RA | Weight | Dimensions | Box dimensions |
| --- | --- | --- | --- | --- | --- | --- | --- | --- |
| 9015.3124LC | LED | 1260lm | 9W | 3000K | ≥80 | 4,90kg | L=400, W=127, H=107mm | 150x130x420mm |
| 9015.3234LC | LED | 2340lm | 18W | 3000K | ≥80 | 4,90kg | L=400, W=127, H=107mm | 150x130x420mm |
| 9015.3256LC | LED | 2520lm | 18W | 3000K | ≥80 | 7,30kg | L=600, W=127, H=107mm | 150x130x620mm |
| 9015.3466LC | LED | 4680lm | 36W | 3000K | ≥80 | 7,30kg | L=600, W=127, H=107mm | 150x130x620mm |
| 9015.35012LC | LED | 5040lm | 36W | 3000K | ≥80 | 14,60kg | L=1200, W=127, H=107mm | 150x130x1220mm |
| 9015.39312LC | LED | 9360lm | 72W | 3000K | ≥80 | 14,60kg | L=1200, W=127, H=107mm | 150x130x1220mm |
| 9015.4124LC | LED | 1260lm | 9W | 4000K | ≥80 | 4,90kg | L=400, W=127, H=107mm | 150x130x420mm |
| 9015.4234LC | LED | 2340lm | 18W | 4000K | ≥80 | 4,90kg | L=400, W=127, H=107mm | 150x130x420mm |
| 9015.4256LC | LED | 2520lm | 18W | 4000K | ≥80 | 7,30kg | L=600, W=127, H=107mm | 150x130x620mm |
| 9015.4466LC | LED | 4680lm | 36W | 4000K | ≥80 | 7,30kg | L=600, W=127, H=107mm | 150x130x620mm |
| 9015.45012LC | LED | 5040lm | 36W | 4000K | ≥80 | 14,60kg | L=1200, W=127, H=107mm | 150x130x1220mm |
| 9015.49312LC | LED | 9360lm | 72W | 4000K | ≥80 | 14,60kg | L=1200, W=127, H=107mm | 150x130x1220mm |