choose a luminaire variant ➔
Technical data
General data:
operating temperature range:
from -20° to +35°
lifetime L80B10:
100 000h
Electrical data:
nominal voltage:
230-240V AC
Nominal freguency:
50-60Hz
Ingress protection IP:
IP40
Contains light source:
yes
Dimming:
DALI, Casambi, on-off
Optical data:
optical system:
microprismatic diffuser
light distribution:
symmetrical
Lighting data:
colour rendering index:
CRI≥80 (on request: CRI≥90)
Product description
The luminaire is made of die extruded aluminum profile. Cover caps without visible screws. Independent spacing of mounting elements and suspension. Unified glare rating UGR (4H8H) < 19. Luminance value ≥65° <3000 cd/m².

Available product colors
Standard:
white

grey

black

anthracite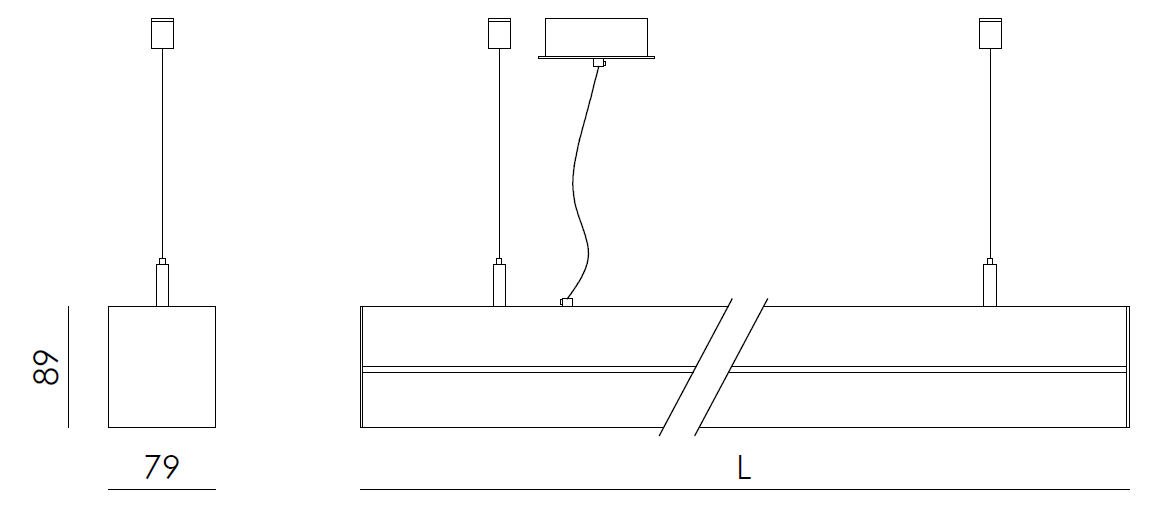 | Catalogue code | Luminaire light flux | Power | Color temperature | CRI/RA | Weight | Dimensions | Box dimensions | UGR |
| --- | --- | --- | --- | --- | --- | --- | --- | --- |
| on request | 1654lm | 16W | 3000K | ≥80 | 3,8kg | L= 1126, W=79, H=89mm | 1150x90x140mm | <19 |
| on request | 1723lm | 16W | 4000K | ≥80 | 3,8kg | L=1126 , W=79, H=89mm | 1150x90x140mm | <19 |
| on request | 2071lm | 20W | 3000K | ≥80 | 4,5kg | L= 1406, W=79, H=89mm | 1430x90x140mm | <19 |
| on request | 2158lm | 20W | 3000K | ≥80 | 4,5kg | L= 1406, W=79, H=89mm | 1430x90x140mm | <19 |
| on request | 2482lm | 24W | 3000K | ≥80 | 6,1kg | L= 1686, W=79, H=89mm | 1710x90x140mm | <19 |
| on request | 2586lm | 24W | 4000K | ≥80 | 6,1kg | L= 1686, W=79, H=89mm | 1710x90x140mm | <19 |
| on request | 2896lm | 28W | 3000K | ≥80 | 7kg | L=1967, W=79, H=89mm | 1990x90x140mm | <19 |
| on request | 3017lm | 28W | 4000K | ≥80 | 7kg | L=1967, W=79, H=89mm | 1990x90x140mm | <19 |
| on request | 3309lm | 32W | 3000K | ≥80 | 8kg | L=2247, W=79, H=89mm | 2270x90x140mm | <19 |
| on request | 3448lm | 32W | 4000K | ≥80 | 8kg | L=2247, W=79, H=89mm | 2270x90x140mm | <19 |
| on request | 3724lm | 36W | 3000K | ≥80 | 9kg | L=2527, W=79, H=89mm | 2550x90x140mm | <19 |
| on request | 3878lm | 36W | 4000K | ≥80 | 9kg | L=2527, W=79, H=89mm | 2550x90x140mm | <19 |
| on request | 4137lm | 40W | 3000K | ≥80 | 10kg | L=2807, W=79, H=89mm | 2830x90x140mm | <19 |
| on request | 4309lm | 40W | 4000K | ≥80 | 10kg | L=2807, W=79, H=89mm | 2830x90x140mm | <19 |
| on request | 4551lm | 44W | 3000K | ≥80 | 11kg | L=3087, W=79, H=89mm | 3110x90x140mm | <19 |
| on request | 4740lm | 44W | 4000K | ≥80 | 11kg | L=3087, W=79, H=89mm | 3110x90x140mm | <19 |
| on request | 4964lm | 48W | 3000K | ≥80 | 12kg | L=3367, W=79, H=89mm | 3390x90x140mm | <19 |
| on request | 5171lm | 48W | 4000K | ≥80 | 12kg | L=3367, W=79, H=89mm | 3390x90x140mm | <19 |
Photometric body