Technical data
Dane mechaniczne:
Mounting:
surface mounted
Dane optyczne:
Light distribution:
symmetrical
Type of source:
built-in LED source
Pozostałe dane:
On request:
CASAMBI, Tunable White, DALI, A 1-10V
Application:
office, retail, residential, hotel and educational facilities
Downloads
Product description
The OVER SQUARE suspended luminaire is a compact aluminium lighting profile. This square or rectangle designed luminaire can be used in a wide variety of arrangements. Its modern and uncomplicated construction allows for regular light diffusion. It is also available in surface mounted and suspended version.
Available product colors
Standard:
white cold

white warm

light grey

grey

anthracite

black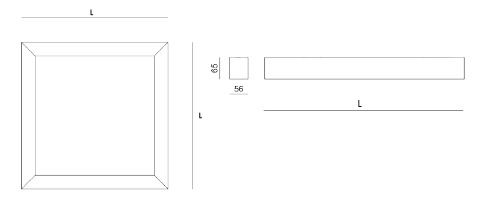 | Catalogue code | Light source | Light flux | Power | Color temperature | CRI/RA | Weight | Dimensions | Box dimensions |
| --- | --- | --- | --- | --- | --- | --- | --- | --- |
| 10133.3881OPC | LED | 8800lm | 54W | 3000K | ≥80 | 3,6kg | L= 605, L1=605, W=44, H=56mm | 670x670x100mm |
| 10133.31321OPC | LED | 13200lm | 82W | 3000K | ≥80 | 5,5kg | L= 885, L1=885W=44, H=56mm | 970x970x100mm |
| 10133.31761OPC | LED | 17600lm | 112W | 3000K | ≥80 | 7,8kg | L=1165, L1=1165W=44, H=56mm | 1250x1250x100m |
| 10133.3882OPC | LED | 6600lm | 41W | 3000K | ≥80 | 4,6kg | L= 605, L1=885W=44, H=56mm | 620x900x100mm |
| 10133.31322OPC | LED | 11000lm | 68W | 3000K | ≥80 | 4,6kg | L= 605, L1=885W=44, H=56mm | 620x920x100mm |
| 10133.31762OPC | LED | 13200lm | 82W | 3000K | ≥80 | 5,2kg | L= 605, L1=1165W=44, H=56mm | 620x1250x100mm |
| 10133.4881OPC | LED | 8800lm | 54W | 4000K | ≥80 | 3,6kg | L= 605, L1=605, W=44, H=56mm | 670x670x100mm |
| 10133.41321OPC | LED | 13200lm | 82W | 4001K | ≥80 | 5,5kg | L= 885, L1=885W=44, H=56mm | 970x970x100mm |
| 10133.41761OPC | LED | 17600lm | 112W | 4002K | ≥80 | 7,8kg | L=1165, L1=1165W=44, H=56mm | 1250x1250x100m |
| 10133.4882OPC | LED | 6600lm | 41W | 4003K | ≥80 | 4,6kg | L= 605, L1=885W=44, H=56mm | 620x900x100mm |
| 10133.41322OPC | LED | 11000lm | 68W | 4004K | ≥80 | 4,6kg | L= 605, L1=885W=44, H=56mm | 620x920x100mm |
| 10133.41762OPC | LED | 13200lm | 82W | 4005K | ≥80 | 5,2kg | L= 605, L1=1165W=44, H=56mm | 620x1250x100mm |