Technical data
Mechanical data:
Mounting:
on the ground / foundation required
Optical data:
Light distribution:
symmetrical, street or park
Other data:
Contains light source:
yes
Application:
parks, estetes, surroundings of office buildingss
On request:
fuse connector, DALI, A 1-10V
Product description
PREGNANT LAMP "it's not just luminaire. It's an idea which, through its functionality, brings nature into urban spaces". The original shape of the luminaire, constructed in such a way that a wooden nesting box for birds can be placed in the pole. Three types of optics allow to adjust the beam angle to any external space.

Design - Ultra Architects
Available product colors
Standard:
cold white

warm white

light grey

grey

grey graphite

anthracite

black
Lightsource: LED
C - color

L - lenses
02 - asymmetric floodlighting distribution
03 - street lighting distribution
04 - park lighting distribution

The luminaire includes a nest box

For power supply cable from 4mm2 to 25mm2 (for power supply cable up to 4mm2 fuse connector included.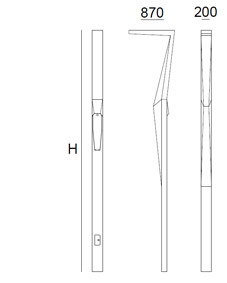 | Catalogue code | Light source | Light flux | Power | Color temperature | CRI/RA | Weight | Dimensions |
| --- | --- | --- | --- | --- | --- | --- | --- |
| 55140.0453.L.C | LED | 4500lm | 35W | 3000K | ≥80 | 62,00kg | L=870, W=200, H=4000mm |
| 55140.0623.L.C | LED | 6200lm | 44W | 3000K | ≥80 | 62,00kg | L=870, W=200, H=4000mm |
| 55140.0823.L.C | LED | 8200lm | 64W | 3000K | ≥80 | 62,00kg | L=870, W=200, H=4000mm |
| 55140.0953.L.C | LED | 9500lm | 74W | 3000K | ≥80 | 62,00kg | L=870, W=200, H=4000mm |
| 55140.1103.L.C | LED | 11000lm | 102W | 3000K | ≥80 | 62,00kg | L=870, W=200, H=4000mm |
| 55146.0453.L.C | LED | 4500lm | 35W | 3000K | ≥80 | 66,50kg | L=870, W=200, H=4600mm |
| 55146.0623.L.C | LED | 6200lm | 44W | 3000K | ≥80 | 66,50kg | L=870, W=200, H=4600mm |
| 55146.0823.L.C | LED | 8200lm | 64W | 3000K | ≥80 | 66,50kg | L=870, W=200, H=4600mm |
| 55146.0953.L.C | LED | 9500lm | 74W | 3000K | ≥80 | 66,50kg | L=870, W=200, H=4600mm |
| 55146.1103.L.C | LED | 11000lm | 102W | 3000K | ≥80 | 66,50kg | L=870, W=200, H=4600mm |
| 55140.0454.L.C | LED | 4500lm | 35W | 4000K | ≥80 | 62,00kg | L=870, W=200, H=4000mm |
| 55140.0624.L.C | LED | 6200lm | 44W | 4000K | ≥80 | 62,00kg | L=870, W=200, H=4000mm |
| 55140.0824.L.C | LED | 8200lm | 64W | 4000K | ≥80 | 62,00kg | L=870, W=200, H=4000mm |
| 55140.0954.L.C | LED | 9500lm | 74W | 4000K | ≥80 | 62,00kg | L=870, W=200, H=4000mm |
| 55140.1104.L.C | LED | 11000lm | 102W | 4000K | ≥80 | 62,00kg | L=870, W=200, H=4000mm |
| 55146.0454.L.C | LED | 4500lm | 35W | 4000K | ≥80 | 66,50kg | L=870, W=200, H=4600mm |
| 55146.0624.L.C | LED | 6200lm | 44W | 4000K | ≥80 | 66,50kg | L=870, W=200, H=4600mm |
| 55146.0824.L.C | LED | 8200lm | 64W | 4000K | ≥80 | 66,50kg | L=870, W=200, H=4600mm |
| 55146.0954.L.C | LED | 9500lm | 74W | 4000K | ≥80 | 66,50kg | L=870, W=200, H=4600mm |
| 55146.1104.L.C | LED | 11000lm | 102W | 4000K | ≥80 | 66,50kg | L=870, W=200, H=4600mm |