Technical data
Mechanical data:
Mounting:
surface mounted
Optical data:
Light distribution:
symmetric
Other data:
Contains light source:
yes
Application:
public utilities, offices, hotels, private apartments, restaurants, shops
Product description
Surface mounted, designer, ring-shaped luminaire that can be used in various arrangements. Its modern, uncomplicated construction and availability in various sizes allow to create interesting configurations on the ceiling. The luminaire is also available in a suspended version.
Available product colors
Standard:
cold white

warm white

light grey

grey

grey graphite

anthracite

black
Lightsource: LED
​C - color

diameter
Ø- luminaire diameter
Øi - inside diameter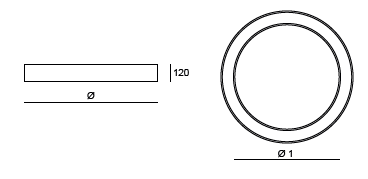 | Catalogue code | Light source | Light flux | Power | Color temperature | CRI/RA | Weight | Dimensions | Box dimensions |
| --- | --- | --- | --- | --- | --- | --- | --- | --- |
| 17.20075.10.103.C | LED | 7700lm | 51W | 3000K | ≥80 | 8,60kg | Ø= 750, Ø1= 550, H=120mm | 820x820x170m |
| 17.20095.10.103.C | LED | 9900lm | 65W | 3000K | ≥80 | 10,90kg | Ø= 950, Ø1= 550, H=120mm | 970x970x170m |
| 17.20125.10.103.C | LED | 13200lm | 87W | 3000K | ≥80 | 14,30kg | Ø=1250, Ø1= 550, H=120mm | 1320x1320x170m |
| 17.20150.10.103.C | LED | 16500lm | 100W | 3000K | ≥80 | 17,20kg | Ø=1500, Ø1= 550, H=120mm | 1570x1570x170m |
| 17.20075.10.104.C | LED | 7700lm | 51W | 4000K | ≥80 | 8,60kg | Ø= 750, Ø1= 550, H=120mm | 820x820x170m |
| 17.20095.10.104.C | LED | 9900lm | 65W | 4000K | ≥80 | 10,90kg | Ø= 950, Ø1= 550, H=120mm | 970x970x170m |
| 17.20125.10.104.C | LED | 13200lm | 87W | 4000K | ≥80 | 14,30kg | Ø=1250, Ø1= 550, H=120mm | 1320x1320x170m |
| 17.20150.10.104.C | LED | 16500lm | 100W | 4000K | ≥80 | 17,20kg | Ø=1500, Ø1= 550, H=120mm | 1570x1570x170m |