Technical data
Mechanical data:
Mounting:
surface mounted
Optical data:
Light distribution:
symmetric
Other data:
Contains light source:
yes
On request:
IP44, DALI, Casambi
Application:
public utilities, offices, hotels, private apartments, restaurants, shops
Downloads
Product description
ROUND ARGO is a simple, surface mounted luminaire, that can be painted in two colours - the inside of luminaire in a different RAL colour and the outside of the steel body in another colour. This solution gives more interesting effect. The luminaire is available in different sizes and powers.
Available product colors
Standard:
cold white

warm white

light grey

grey

grey graphite

anthracite

black
Lightsource: LED
Ci - inside color
Co - outside color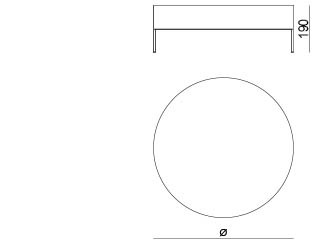 | Catalogue code | Light source | Light flux | Power | Color temperature | CRI/RA | Weight | Dimensions | Box dimensions |
| --- | --- | --- | --- | --- | --- | --- | --- | --- |
| 13.450303.10.Ci.Co | LED | 3000lm | 22W | 3000K | ≥80 | 5,65kg | Ø=450, H=190mm | 510x510x220mm |
| 13.450423.10.Ci.Co | LED | 4200lm | 31W | 3000K | ≥80 | 5,65kg | Ø=450, H=190mm | 510x510x220mm |
| 13.450304.10.Ci.Co | LED | 3000lm | 22W | 4000K | ≥80 | 5,65kg | Ø=450, H=190mm | 510x510x220mm |
| 13.450424.10.Ci.Co | LED | 4200lm | 31W | 4000K | ≥80 | 5,65kg | Ø=450, H=190mm | 510x510x220mm |