Technical data
Mechanical data:
Mounting:
on the ground / foundation required
Optical data:
Light distribution:
symmetrical, street or park
Other data:
Contains light source:
yes
Application:
parks, estetes, surroundings of office buildingss, private properties
On request:
fuse connector, , DALI, A 1-10V
Product description
POST is an outdoor luminaire with a simple timeless design. It can illuminate not only pavements and alleys, but also the surrounding of residential and public buildings. Available in variety of heights.
Available product colors
Standard:
cold white

light grey

grey

grey graphite

anthracite

black
C - color

L - lenses
02 - asymmetric floodlighting distribution
03 - street lighting distribution
04 - park lighting distribution

* for power supply cable from 4mm2 to 25mm2 (for power supply cable up to 4mm2 fuse connector included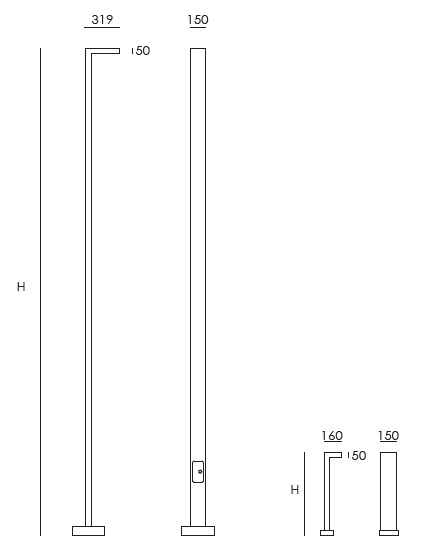 | Catalogue code | Light source | Light flux | Power | Color temperature | CRI/RA | Weight | Dimensions |
| --- | --- | --- | --- | --- | --- | --- | --- |
| 5463.303.L.C | LED | 3000lm | 22W | 3000K | ≥80 | 27,00kg | L=319, W=150, H=3000mm |
| 5463.403.L.C | LED | 4000lm | 30W | 3000K | ≥80 | 27,00kg | L=319, W=150, H=3000mm |
| 5463.503.L.C | LED | 5000lm | 41W | 3000K | ≥80 | 27,00kg | L=319, W=150, H=3000mm |
| 5463.603.L.C | LED | 6000lm | 44W | 3000K | ≥80 | 27,00kg | L=319, W=150, H=3000mm |
| 5463.803.L.C | LED | 8000lm | 62W | 3000K | ≥80 | 27,00kg | L=319, W=150, H=3000mm |
| 5464.303.L.C | LED | 3000lm | 22W | 3000K | ≥80 | 31,00kg | L=319, W=150, H=4000mm |
| 5464.403.L.C | LED | 4000lm | 30W | 3000K | ≥80 | 31,00kg | L=319, W=150, H=4000mm |
| 5464.503.L.C | LED | 5000lm | 41W | 3000K | ≥80 | 31,00kg | L=319, W=150, H=4000mm |
| 5464.603.L.C | LED | 6000lm | 44W | 3000K | ≥80 | 31,00kg | L=319, W=150, H=4000mm |
| 5464.803.L.C | LED | 8000lm | 62W | 3000K | ≥80 | 35,00kg | L=319, W=150, H=5000mm |
| 5465.303.L.C | LED | 3000lm | 22W | 3000K | ≥80 | 35,00kg | L=319, W=150, H=5000mm |
| 5465.403.L.C | LED | 4000lm | 30W | 3000K | ≥80 | 35,00kg | L=319, W=150, H=5000mm |
| 5465.503.L.C | LED | 5000lm | 41W | 3000K | ≥80 | 35,00kg | L=319, W=150, H=5000mm |
| 5465.603.L.C | LED | 6000lm | 44W | 3000K | ≥80 | 35,00kg | L=319, W=150, H=5000mm |
| 5463.304.L.C | LED | 3000lm | 22W | 4000K | ≥80 | 27,00kg | L=319, W=150, H=3000mm |
| 5463.404.L.C | LED | 4000lm | 30W | 4000K | ≥80 | 27,00kg | L=319, W=150, H=3000mm |
| 5463.504.L.C | LED | 5000lm | 41W | 4000K | ≥80 | 27,00kg | L=319, W=150, H=3000mm |
| 5463.604.L.C | LED | 6000lm | 44W | 4000K | ≥80 | 27,00kg | L=319, W=150, H=3000mm |
| 5463.804.L.C | LED | 8000lm | 62W | 4000K | ≥80 | 27,00kg | L=319, W=150, H=3000mm |
| 5464.304.L.C | LED | 3000lm | 22W | 4000K | ≥80 | 31,00kg | L=319, W=150, H=4000mm |
| 5464.404.L.C | LED | 4000lm | 30W | 4000K | ≥80 | 31,00kg | L=319, W=150, H=4000mm |
| 5464.504.L.C | LED | 5000lm | 41W | 4000K | ≥80 | 31,00kg | L=319, W=150, H=4000mm |
| 5464.604.L.C | LED | 6000lm | 44W | 4000K | ≥80 | 31,00kg | L=319, W=150, H=4000mm |
| 5464.804.L.C | LED | 8000lm | 62W | 4000K | ≥80 | 35,00kg | L=319, W=150, H=4000mm |
| 5465.304.L.C | LED | 3000lm | 22W | 4000K | ≥80 | 35,00kg | L=319, W=150, H=5000mm |
| 5465.404.L.C | LED | 4000lm | 30W | 4000K | ≥80 | 35,00kg | L=319, W=150, H=5000mm |
| 5465.504.L.C | LED | 5000lm | 41W | 4000K | ≥80 | 35,00kg | L=319, W=150, H=5000mm |
| 5465.604.L.C | LED | 6000lm | 44W | 4000K | ≥80 | 35,00kg | L=319, W=150, H=5000mm |
| 5465.804.L.C | LED | 8000lm | 62W | 4000K | ≥80 | 35,00kg | L=319mm, W=150mm, H=5000mm |
Accessories
foot cover
catalogue code 90.13C