Technical data
Optical data:
Light distribution:
symmetric
Other data:
Contains light source:
yes
On request:
DALI, A 1-10V Casambi
Application:
offices, receptions, shops, private apartments
Product description
Slim, simple, suspended WORK luminaire is dedicated to offices, cabinets, receptions or conference rooms. It effectively eliminates glare and focuses light on the working space. It is available in three lengths and three different LED power sources. It has adjustable suspension, which allows to adjust it to the appropriate distance from the ceiling.
Available product colors
Standard:
cold white

warm white

light grey

grey

grey graphite

anthracite

black
Lightsource: LED
C - color

D - diffuser
OP - opal
MP - microprism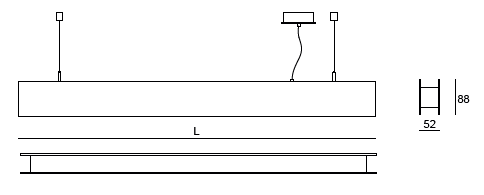 | Catalogue code | Light source | Light flux | Power | Color temperature | Weight | Dimensions | Box dimensions |
| --- | --- | --- | --- | --- | --- | --- | --- |
| 28.09333.00.D.C | LED | 3300lm | 20W | 3000K | 2,70kg | L= 900, W=52, H,88mm | 85x99x1050mm |
| 28.11443.00.D.C | LED | 4400lm | 27W | 3000K | 3,50kg | L=1180, W=52, H,88mm | 85x99x1330mm |
| 28.14553.00.D.C | LED | 5500lm | 34W | 3000K | 4,40kg | L=1460, W=52, H,88mm | 85x99x1610mm |
| 28.09334.00.D.C | LED | 3300lm | 20W | 4000K | 2,70kg | L= 900, W=52, H,88mm | 85x99x1050mm |
| 28.11444.00.D.C | LED | 4400lm | 27W | 4000K | 3,50kg | L=1180, W=52, H,88mm | 85x99x1330mm |
| 28.14554.00.D.C | LED | 5500lm | 34W | 4000K | 4,40kg | L=1460, W=52, H,88mm | 85x99x1610mm |