Technical data
Optical data:
Light distribution:
symmetrical
Other data:
Contains light source:
yes
On request:
IP44, DALI, A 1–10V, Casambi
Application:
Shops, hotels, apatrtments, restaurants
Diffuser:
opal or microprism
Product description
Hexagonal, suspended luminaire, which can be used in various arrangements. Three different sizes of HEXAGON, adjustable suspension and availability in a surface mounted version, allow to creat interesting light compositions. The luminaire has an opal or microprism, diffuser which give uniform light distribution.
Available product colors
Standard:
cold white

warm white

light grey

grey

grey graphite

anthracite

black
Lightsource: LED
C - color

D - diffuser
OP - opal
MP - microprism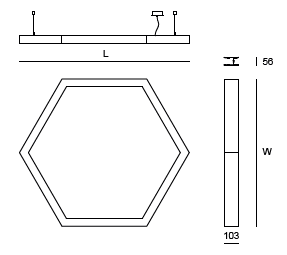 | Catalogue code | Light source | Light flux | Power | Color temperature | CRI/RA | Weight | Dimensions | Box dimensions |
| --- | --- | --- | --- | --- | --- | --- | --- | --- |
| 29.0653.00.D.C | LED | 4000lm | 23W | 3000K | ≥80 | 4,30kg | L= 655, W=567, H=103mm | 680x590x120mm |
| 29.1203.00.D.C | LED | 8000lm | 46W | 3000K | ≥80 | 8,20kg | L=1230, W=1065, H=103mm | 1250x1080x120mm |
| 29.1803.00.D.C | LED | 12000lm | 69W | 3000K | ≥80 | 12,10kg | L=1804, W=1562, H=103mm | 1820x1580x120mm |
| 29.0654.00.D.C | LED | 4000lm | 23W | 4000K | ≥80 | 4,30kg | L= 655, W=567, H=103mm | 680x590x120mm |
| 29.1204.00.D.C | LED | 8000lm | 46W | 4000K | ≥80 | 8,20kg | L=1230, W=1065, H=103mm | 1250x1080x120mm |
| 29.1804.00.D.C | LED | 12000lm | 69W | 4000K | ≥80 | 12,10kg | L=1804, W=1562, H=103mm | 1820x1580x120mm |