Technical data
Optical data:
Light distribution:
symmetric
Other data:
Contains light source:
yes
On request:
DALI, A 1-10V, Casambi
Application:
offices, receptions, shops, private apartments
Product description
Ring-shaped, suspended, designer luminaire, available in different sizes and powers of LED source. Luminaire made of powder coated steel. It has an opal diffuser that gives uniform light distribution. DONUT is used in residential and commercial interiors.
Available product colors
Standard:
cold white

warm white

light grey

grey

grey graphite

anthracite

black
Lightsource: LED
​C - color

Diameter
Ø - luminaire diameter
Ø1 - inside diameter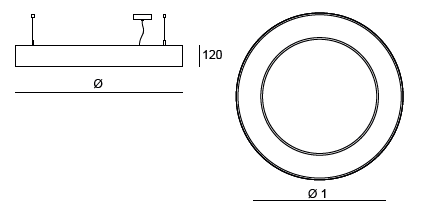 | Catalogue code | Light source | Light flux | Power | Color temperature | CRI/RA | Weight | Dimensions | Box dimensions |
| --- | --- | --- | --- | --- | --- | --- | --- | --- |
| 17.07512.00.103.C | LED | 7700lm | 51W | 3000K | ≥80 | 9,50kg | Ø=750, Ø1=450, H=120mm | 820x820x170mm |
| 17.09512.00.103.C | LED | 9900lm | 65W | 3000K | ≥80 | 12,00kg | Ø=950, Ø1=650, H=120mm | 970x970x170mm |
| 17.12512.00.103.C | LED | 13200lm | 87W | 3000K | ≥80 | 15,80kg | Ø=1250, Ø1=950, H=120mm | 1320x1320x170mm |
| 17.15012.00.103.C | LED | 16500lm | 100W | 3000K | ≥80 | 18,90kg | Ø=1500, Ø1=1200, H=120mm | 1570x1570x170mm |
| 17.07512.00.104.C | LED | 7700lm | 51W | 4000K | ≥80 | 9,50kg | Ø=750, Ø1=450, H=120mm | 820x820x170mm |
| 17.09512.00.104.C | LED | 9900lm | 65W | 4000K | ≥80 | 12,00kg | Ø=950, Ø1=650, H=120mm | 970x970x170mm |
| 17.12512.00.104.C | LED | 13200lm | 87W | 4000K | ≥80 | 15,80kg | Ø=1250, Ø1=950, H=120mm | 1320x1320x170mm |
| 17.15012.00.104.C | LED | 16500lm | 100W | 4000K | ≥80 | 18,90kg | Ø=1500, Ø1=1200, H=120mm | 1570x1570x170mm |