Technical data
Mechanical data:
Mounting:
surface mounted
Optical data:
Light distribution:
symmetric
Other data:
Contains light source:
yes
Available on request:
DALI, Casambi, IP44
Application:
public utilities, hotels, recreation facilities, private apartments, restaurants, shops
Diffuser:
opal, microprism
Product description
Modern, surface mounted luminaire with an uncomplicated design and opal or microprism diffuser dispersing light evenly. Its interesting shape and the availability of different sizes, gives the possibility to create interesting compositions on the ceiling. CASSETTA is ideal for offices, hotels, residential buildings, restaurants and shops.
Available product colors
Standard:
cold white

warm white

light grey

grey

grey graphite

anthracite

black
Lightsource: LED
C - color

D - diffusor
OP - opal
MP - microprism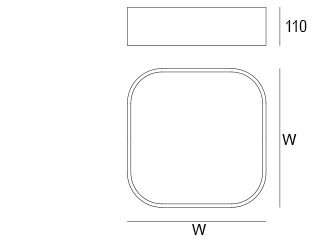 | Catalogue code | Light source | Light flux | Power | Color temperature | CRI/RA | Weight | Dimensions | Box dimensions |
| --- | --- | --- | --- | --- | --- | --- | --- | --- |
| 1550.10.301D.C | LED | 3300lm | 20W | 3000K | ≥80 | 3,45kg | W=300, H=110mm | 350x350x170mm |
| 1551.10.301D.C | LED | 4400lm | 31W | 3000K | ≥80 | 4,60kg | W=400, H=110mm | 510x510x170mm |
| 1551.10.501D.C | LED | 5000lm | 35W | 3000K | ≥80 | 4,60kg | W=400, H=110mm | 510x510x170mm |
| 1552.10.301D.C | LED | 6600lm | 41W | 3000K | ≥80 | 5,29kg | W=460, H=110mm | 510x510x170mm |
| 1553.10.201D.C | LED | 5000lm | 31W | 3000K | ≥80 | 6,90kg | W=600, H=110mm | 700x700x170mm |
| 1553.10.301D.C | LED | 8800lm | 51W | 3000K | ≥80 | 6,90kg | W=600, H=110mm | 700x700x170mm |
| 1550.10.302D.C | LED | 3300lm | 20W | 4000K | ≥80 | 3,45kg | W=300, H=110mm | 350x350x170mm |
| 1551.10.302D.C | LED | 4400lm | 31W | 4000K | ≥80 | 4,60kg | W=400, H=110mm | 510x510x170mm |
| 1551.10.502D.C | LED | 5000lm | 35W | 4000K | ≥80 | 4,60kg | W=400, H=110mm | 510x510x170mm |
| 1552.10.302D.C | LED | 6600lm | 41W | 4000K | ≥80 | 5,29kg | W=460, H=110mm | 510x510x170mm |
| 1553.10.202D.C | LED | 5000lm | 31W | 4000K | ≥80 | 6,90kg | W=600, H=110mm | 700x700x170mm |
| 1553.10.302D.C | LED | 8800lm | 51W | 4000K | ≥80 | 6,90kg | W=600, H=110mm | 700x700x170mm |