Technical data
Mechanical data:
Mounting:
surface mounted
Optical data:
Light distribution:
symmetric
Other data:
Contains light source:
yes
On request:
DALI, Casambi, IP44
Application:
public utilities, offices, hotels, private apartments, restaurants, shops
Diffuser:
opal, microprism
Downloads
Product description
Simple, geometric QUATRO luminaire, is mainly used as a communication routes lighting. Available in different dimensions. You can also choose the type of diffuser: opal or microprism, which disperses the light coming out of the luminaire evenly. It is also available in recessed and suspended versions.
Available product colors
Standard:
cold white

warm white

light grey

grey

grey graphite

anthracite

black
Lightsource: LED
H - height of the luminaire to choose:
06 = 60mm
08 = 80 mm
12 = 1200mm
15 = 1500 mm

C - color

D - diffuser
OP - opal
MP - microprism*

Width
W - luminaire width
F - frame width

*microprism is available for L=300, 400, 600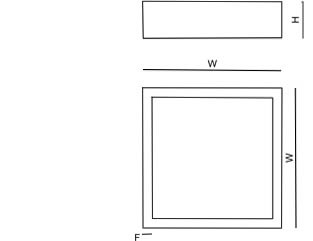 | Catalogue code | Light source | Light flux | Power | Color temperature | CRI/RA | Weight | Dimensions | Box dimensions |
| --- | --- | --- | --- | --- | --- | --- | --- | --- |
| 720.030333.10.H.D.C | LED | 3300lm | 20W | 3000K | ≥80 | 2,60/2,90kg | W=300, F=10, H=60, 80mm | 320x320x100mm |
| 720.040443.10.H.D.C | LED | 4400lm | 31W | 3000K | ≥80 | 3,50/3,80kg | W=400, F=13, H=60, 80mm | 420x420x100mm |
| 720.040503.10.H.D.C | LED | 5000lm | 35W | 3000K | ≥80 | 3,50/3,80kg | W=400, F=13, H=60, 80mm | 420x420x100mm |
| 720.060503.10.H.D.C | LED | 5000lm | 31W | 3000K | ≥80 | 6,50/6,80kg | W=600, F=20, H=60, 80mm | 620x620x100mm |
| 720.060883.10.H.D.C | LED | 8800lm | 51W | 3000K | ≥80 | 6,50/6,80kg | W=600, F=20, H=60, 80mm | 620x620x100mm |
| 720.090903.10.H.OP.C | LED | 9000lm | 55W | 3000K | ≥80 | 7,70/8,30kg | W=900, F=30, H=120, 150mm | 920x920x170mm |
| 720.091253.10.H.OP.C | LED | 12500lm | 79W | 3000K | ≥80 | 7,70/8,30kg | W=900, F=30, H=120, 150mm | 920x920x170mm |
| 720.121113.10.H.OP.C | LED | 11000lm | 70W | 3000K | ≥80 | 10,10/11,20kg | W=1200, F=40, H=120, 150mm | 1270x1270x170mm |
| 720.121603.10.H.OP.C | LED | 16000lm | 104W | 3000K | ≥80 | 10,10/11,20kg | W=1200, F=40, H=120, 150mm | 1270x1270x170mm |
| 720.122253.10.H.OP.C | LED | 22500lm | 150W | 3000K | ≥80 | 10,10/11,20kg | W=1200, F=40, H=120, 150mm | 1270x1270x170mm |
| 720.030334.10.H.D.C | LED | 3300lm | 20W | 4000K | ≥80 | 2,60/2,90kg | W=300, F=10, H=60, 80mm | 320x320x100mm |
| 720.040444.10.H.D.C | LED | 4400lm | 31W | 4000K | ≥80 | 3,50/3,80kg | W=400, F=13, H=60, 80mm | 420x420x100mm |
| 720.040504.10.H.D.C | LED | 5000lm | 35W | 4000K | ≥80 | 3,50/3,80kg | W=400, F=13, H=60, 80mm | 420x420x100mm |
| 720.060504.10.H.D.C | LED | 5000lm | 31W | 4000K | ≥80 | 6,50/6,80kg | W=600, F=20, H=60, 80mm | 620x620x100mm |
| 720.060884.10.H.D.C | LED | 8800lm | 51W | 4000K | ≥80 | 6,50/6,80kg | W=600, F=20, H=60, 80mm | 620x620x100mm |
| 720.090904.10.H.OP.C | LED | 9000lm | 55W | 4000K | ≥80 | 7,70/8,30kg | W=900, F=30, H=120, 150mm | 920x920x170mm |
| 720.091254.10.H.OP.C | LED | 12500lm | 79W | 4000K | ≥80 | 7,70/8,30kg | W=900, F=30, H=120, 150mm | 920x920x170mm |
| 720.121114.10.H.OP.C | LED | 11000lm | 70W | 4000K | ≥80 | 10,10/11,20kg | W=1200, F=40, H=120, 150mm | 1270x1270x170mm |
| 720.121604.10.H.OP.C | LED | 16000lm | 104W | 4000K | ≥80 | 10,10/11,20kg | W=1200, F=40, H=120, 150mm | 1270x1270x170mm |
| 720.122254.10.H.OP.C | LED | 22500lm | 150W | 4000K | ≥80 | 10,10/11,20kg | W=1200, F=40, H=120, 150mm | 1270x1270x170mm |