Technical data
Mechanical data:
Mounting:
surface mounted
Optical data:
Light distribution:
symmetric
Other data:
Contains light source:
no
Application:
public utilities, hotels, recreation facilities, private apartments, restaurants, shops
Product description
The slim shape of the TUBE luminaire and the possibility to be painted in two different colours, makes it not only lighting but also element of decoration. It is available in four sizes and in a suspended version. The receding light source eliminates the glare effect.
Available product colors
Standard:
cold white

warm white

light grey

grey

grey graphite

anthracite

black
Lightsource: Conventional
Cb - bottom color

Cu - upper color

Height
H - luminaire height
H1 - height of the bottom colour

Possibility to paint in special colours p.7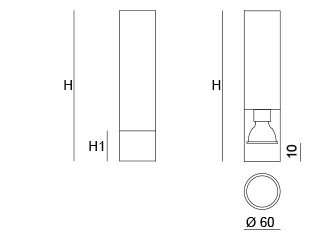 | Catalogue code | Light source | Power | Weight | Dimensions | Box dimensions |
| --- | --- | --- | --- | --- | --- |
| 200.10.170.42.Cb.Cu | PAR16 | GU10 | max. 50W | 0,40kg | Ø=60, H=170, H1=35mm | 70x70x190mm |
| 200.10.250.42.Cb.Cu | PAR16 | GU10 | max. 50W | 0,60kg | Ø=60, H=250, H1=50mm | 70x70x270mm |
| 200.10.400.42.Cb.Cu | PAR16 | GU10 | max. 50W | 0,90kg | Ø=60, H=400, H1=80mm | 70x70x420mm |
| 200.10.500.42.Cb.Cu | PAR16 | GU10 | max. 50W | 1,10kg | Ø=60, H=500, H1=100mm | 70x70x520mm |