Technical data
Mechanical data:
Mounting:
surface mounted
Optical data:
Light distribution:
symmetric
Other data:
Contains light source:
no
On request:
IP44, DALI, Casambi
Application:
public utilities, offices, hotels, private apartments, restaurants, shops
Product description
A simple, geometric shape, surface mounted luminaire, will find its use in a variety of arrangements. Simple construction - aluminium body with diffuser and a rosette in the central part, allows for regular light distribution. The luminaire is also available in various sizes.
Available product colors
Standard:
cold white

warm white

light grey

grey

grey graphite

anthracite

black
Lightsource: Conventional
C - color

diameter
Ø - luminaire diameter
Øi - diameter of the inner circle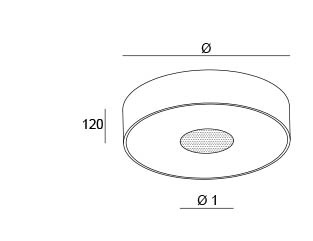 | Catalogue code | Light source | Light flux | Power | Color temperature | CRI/RA | Weight | Dimensions | Box dimensions |
| --- | --- | --- | --- | --- | --- | --- | --- | --- |
| 50033.323C | LED | 2300lm | 17W | 3000K | ≥80 | 3,00kg | Ø=400, Ø1=144, H=120mm | 510x510x170mm |
| 50033.324C | LED | 2400lm | 18W | 3000K | ≥80 | 3,40kg | Ø=450, Ø1=197, H=120mm | 510x510x170mm |
| 50033.355C | LED | 5500lm | 34W | 3000K | ≥80 | 4,90kg | Ø=650, Ø1=283, H=120mm | 700x700x170mm |
| 50033.423C | LED | 2300lm | 17W | 4000K | ≥80 | 3,00kg | Ø=400, Ø1=144, H=120mm | 510x510x170mm |
| 50033.424C | LED | 2400lm | 18W | 4000K | ≥80 | 3,40kg | Ø=450, Ø1=197, H=120mm | 510x510x170mm |
| 50033.455C | LED | 5500lm | 34W | 4000K | ≥80 | 4,90kg | Ø=650, Ø1=283, H=120mm | 700x700x170mm |