Technical data
Mechanical data:
Mounting:
surface mounted
Optical data:
Light distribution:
symmetric
Other data:
Contains light source:
yes or no
Application:
public utilities, hotels, obiekty rekreacyjne, private apartments, restaurants, shops
Type of source:
LED, PAR16 or ES111
Downloads
Product description
Surface mounted BLOCK luminaire, with a simple, square shape. LED version there is a choice of many types of light incidence angles. The luminaire is most often used as additional lighting.
Available product colors
Standard:
cold white

warm white

light grey

grey

grey graphite

anthracite

black
Lightsource: Conventional
C - color

R - reflectors for W=60mm
17-17º
30-30º
51-51º

R - reflectors for W=100mm
28-28º
37-37º
64-64º

R - reflectors for W=120mm
11-11º
19-19º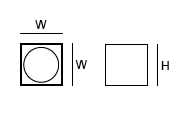 | Catalogue code | Light source | Light flux | Power | Color temperature | CRI/RA | Weight | Dimensions | Box dimensions |
| --- | --- | --- | --- | --- | --- | --- | --- | --- |
| 50043.356RC | LED | 570lm | 6W | 3000K | ≥80 | 0,30kg | W=60, H=80mm | 120x120x120mm |
| 50043.376RC | LED | 720lm | 8W | 3000K | ≥80 | 0,30kg | W=60, H=80mm | 120x120x120mm |
| 50043.3710RC | LED | 720lm | 8W | 3000K | ≥80 | 0,40kg | W=100, H=100mm | 120x120x120mm |
| 50043.3910RC | LED | 950lm | 10W | 3000K | ≥80 | 0,40kg | W=100, H=100mm | 120x120x120mm |
| 50043.31110RC | LED | 1150lm | 12W | 3000K | ≥80 | 0,40kg | W=100, H=100mm | 120x120x120mm |
| 50043.3712RC | LED | 720lm | 8W | 3000K | ≥80 | 0,50kg | W=120, H=120mm | 120x120x120mm |
| 50043.3912RC | LED | 950lm | 10W | 3000K | ≥80 | 0,50kg | W=120, H=120mm | 120x120x120mm |
| 50043.31112RC | LED | 1150lm | 12W | 3000K | ≥80 | 0,50kg | W=120, H=120mm | 120x120x120mm |
| 50043.456RC | LED | 570lm | 6W | 4000K | ≥80 | 0,30kg | W=60, H=80mm | 120x120x120mm |
| 50043.476RC | LED | 720lm | 8W | 4000K | ≥80 | 0,30kg | W=60, H=80mm | 120x120x120mm |
| 50043.4710RC | LED | 720lm | 8W | 4000K | ≥80 | 0,40kg | W=100, H=100mm | 120x120x120mm |
| 50043.4910RC | LED | 950lm | 10W | 4000K | ≥80 | 0,40kg | W=100, H=100mm | 120x120x120mm |
| 50043.41110RC | LED | 1150lm | 12W | 4000K | ≥80 | 0,40kg | W=100, H=100mm | 120x120x120mm |
| 50043.4712RC | LED | 720lm | 8W | 4000K | ≥80 | 0,50kg | W=120, H=120mm | 120x120x120mm |
| 50043.4912RC | LED | 950lm | 10W | 4000K | ≥80 | 0,50kg | W=120, H=120mm | 120x120x120mm |
| 50043.41112RC | LED | 1150lm | 12W | 4000K | ≥80 | 0,50kg | W=120, H=120mm | 120x120x120mm |