Technical data
Optical data:
Light distribution:
symmetrical
Beam angle:
14°, 24°, 38°, 60°
Other data:
Contains light source:
yes
Available on request:
CASAMBI, DALI
Application:
office, educational, retail, residential and hotel buildings
Downloads
Product description
Recessed LED luminaire. Its construction allows the light source to be adjusted in four directions. Its frameless installation makes an uniform surface with the ceiling. Because of the available range of light distribution angles, this luminaire can be used in various types of objects.
Available product colors
Standard:
cold white

warm white

light grey

grey

grey graphite

anthracite

black
Lightsource: LED
Ci – inside color (body and ring)
Cf – frame color

choose color

R – reflectors
14 – 14°
24 – 24°
38 – 38°
60 – 60°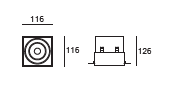 | Catalogue code | Light source | Light flux | Power | Color temperature | CRI/RA | Weight | Dimensions | Box dimensions |
| --- | --- | --- | --- | --- | --- | --- | --- | --- |
| 930.11103.R.Ci.Cf | LED | 1100lm | 8W | 3000K | ≥80 | 1,30kg | L=116, W=116, H=126mm | 190x190x140mm |
| 930.12003.R.Ci.Cf | LED | 2000lm | 14W | 3000K | ≥80 | 1,30kg | L=116, W=116, H=126mm | 190x190x140mm |
| 930.13003.R.Ci.Cf | LED | 3000lm | 20W | 3000K | ≥80 | 1,30kg | L=116, W=116, H=126mm | 190x190x140mm |
| 930.11104.R.Ci.Cf | LED | 1100lm | 8W | 4000K | ≥80 | 1,30kg | L=116, W=116, H=126mm | 190x190x140mm |
| 930.12004.R.Ci.Cf | LED | 2000lm | 14W | 4000K | ≥80 | 1,30kg | L=116, W=116, H=126mm | 190x190x140mm |
| 930.13004.R.Ci.Cf | LED | 3000lm | 20W | 4000K | ≥80 | 1,30kg | L=116, W=116, H=126mm | 190x190x140mm |