Technical data
Mechanical data:
Mounting:
surface mounted
Optical data:
Light distribution:
symetric
Beam angle:
14°, 24°, 38°, 60°
Other data:
Contains light source:
yes
Application:
offices, conference rooms, halls, shops, warehouse halls, passageways, hotels, private apartments
Product description
Modern, surface mounted LED luminaire DLN 90-2 is a very universal product, which guarantees proper illumination in various spaces. Because of its minimalistic shape, the luminaire will perfectly emphasize any interior. With the receding reflector, there is a more gently diffused light and better comfort in the interiors.
Available product colors
Standard:
cold white

light grey

black

warm white

grey

grey graphite

anthracite
Lightsource: LED
R - reflectors to choose:
14 – 14°
24 – 24°
38 – 38°
60 – 60°


C - color

Additional options must be chosen during order placement. They are not exchangeable accessories. For the standard luminaire 1,5mm thickness round frame is mounted. To order a luminaire with a different frame or glass, add the assigned number on the order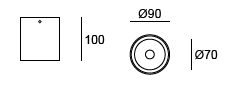 | Catalogue code | Light source | Light flux | Power | Color temperature | CRI/RA | Weight | Dimensions | Box dimensions |
| --- | --- | --- | --- | --- | --- | --- | --- | --- |
| 35.090.10.723.R.C | LED | 720lm | 8W | 3000K | ≥80 | 1,20kg | Ø=90, Ø1=70, H=100mm | 120x120x120mm |
| 35.090.10.953.R.C | LED | 950lm | 10W | 3000K | ≥80 | 1,20kg | Ø=90, Ø1=70, H=100mm | 120x120x120mm |
| 35.090.10.724.R.C | LED | 720lm | 8W | 4000K | ≥80 | 1,20kg | Ø=90, Ø1=70, H=100mm | 120x120x120mm |
| 35.090.10.954.R.C | LED | 950lm | 10W | 4000K | ≥80 | 1,20kg | Ø=90, Ø1=70, H=100mm | 120x120x120mm |