Technical data
Optical data:
Light distribution:
asymetric
Other data:
Contains light source:
yes
Available on request:
DIM DALI
Application:
offices, class rooms, conference rooms, halls, shops, warehouse halls, passageways
Product description
The DL 140 is equipped with an asymerical wall-washer reflector. On the one side it creates a blurring effect on the wall, on the other side the light falls wider. This luminaire is usually used in residential spaces, communication routes or receptions, to complement general lighting.
Available product colors
Standard:
cold white

light grey

black

warm white

grey

grey graphite

anthracite
Lightsource: LED
C - color

Feeder mounted outside of the luminaire

Additional options must be chosen during order placement. They are not exchangeable accessories. For the standard luminaire 1,5mm thickness round frame is mounted. To order a luminaire with a different frame or glass, add the assigned number on the order.

Mounting hole: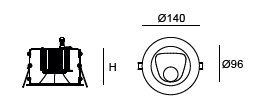 | Catalogue code | Light source | Light flux | Power | Color temperature | CRI/RA | Weight | Dimensions | Box dimensions |
| --- | --- | --- | --- | --- | --- | --- | --- | --- |
| 34.140.0113.C | LED | 1100lm | 8W | 3000K | ≥80 | 0,50kg | Ø=140, Ø1=96, H=118mm | 190x190x140mm |
| 34.140.0203.C | LED | 2000lm | 14W | 3000K | ≥80 | 0,50kg | Ø=140, Ø1=96, H=118mm | 190x190x140mm |
| 34.140.0303.C | LED | 3000lm | 20W | 3000K | ≥80 | 0,70kg | Ø=140, Ø1=96, H=148mm | 190x190x170mm |
| 34.140.0114.C | LED | 1100lm | 8W | 4000K | ≥80 | 0,50kg | Ø=140, Ø1=96, H=118mm | 190x190x140mm |
| 34.140.0204.C | LED | 2000lm | 14W | 4000K | ≥80 | 0,50kg | Ø=140, Ø1=96, H=118mm | 190x190x140mm |
| 34.140.0304.C | LED | 3000lm | 20W | 4000K | ≥80 | 0,70kg | Ø=140, Ø1=96, H=148mm | 190x190x170mm |