Technical data
Mechanical data:
Mounting:
surface mounted
Optical data:
light distribution:
symmetrical
Other data:
Contains light source:
yes
Available on request:
DIM 1-10V, DIM DALI, IP44, TW, Casambi, fluorescent light source T5
Application:
offices, receptions, class rooms, conference rooms, halls, museums, shops
Product description
PURE profile is a solution for those, who like simplicity and well illuminated modern arrangements. Uncomplicated form, guarantees reliable lighting. The construction of the luminaire allows to obtain the effect of light diffused in three directions. Available in suspended and surface mounted wersion.
Available product colors
Standard:
cold white

warm white

light grey

grey

anthracite

black

anoda

grey graphite
Lightsource: LED
Diffuser:
OP - opal

C - color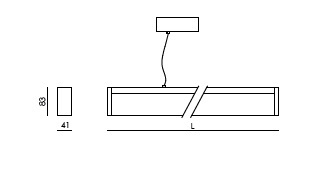 | Catalogue code | Light source | Light flux | Power | Color temperature | CRI/RA | Weight | Dimensions | Box dimensions |
| --- | --- | --- | --- | --- | --- | --- | --- | --- |
| 392200.10.OP.C | LED | 2200lm | 14W | 3000K | ≥80 | 1,4kg | L= 596, W=41, H=83mm | 85x95x620mm |
| 393300.10.OP.C | LED | 3300lm | 20W | 3000K | ≥80 | 1,6kg | L= 876, W=41, H=83mm | 85x95x900mm |
| 394400.10.OP.C | LED | 4400lm | 27W | 3000K | ≥80 | 1,9kg | L=1164, W=41, H=83mm | 85x95x1185mm |
| 395500.10.OP.C | LED | 5500lm | 34W | 3000K | ≥80 | 2,2kg | L=1451, W=41, H=83mm | 85x95x1475mm |
| 396600.10.OP.C | LED | 6600lm | 41W | 3000K | ≥80 | 2,4kg | L=1738, W=41, H=83mm | 85x95x1760mm |
| 397700.10.OP.C | LED | 7700lm | 47W | 3000K | ≥80 | 2,7kg | L=2026, W=41, H=83mm | 85x95x2050mm |
| 398800.10.OP.C | LED | 8800lm | 54W | 3000K | ≥80 | 3,0kg | L=2313, W=41, H=83mm | 85x95x2335mm |
| 399900.10.OP.C | LED | 9900lm | 61W | 3000K | ≥80 | 3,3kg | L=2601, W=41, H=83mm | 85x95x2625mm |
| 392201.10.OP.C | LED | 2200lm | 14W | 4000K | ≥80 | 1,4kg | L= 596, W=41, H=83mm | 85x95x620mm |
| 393301.10.OP.C | LED | 3300lm | 20W | 4000K | ≥80 | 1,6kg | L= 876, W=41, H=83mm | 85x95x900mm |
| 394401.10.OP.C | LED | 4400lm | 27W | 4000K | ≥80 | 1,9kg | L=1164, W=41, H=83mm | 85x95x1185mm |
| 395501.10.OP.C | LED | 5500lm | 34W | 4000K | ≥80 | 2,2kg | L=1451, W=41, H=83mm | 85x95x1475mm |
| 396601.10.OP.C | LED | 6600lm | 41W | 4000K | ≥80 | 2,4kg | L=1738, W=41, H=83mm | 85x95x1760mm |
| 397701.10.OP.C | LED | 7700lm | 47W | 4000K | ≥80 | 2,7kg | L=2026, W=41, H=83mm | 85x95x2050mm |
| 398801.10.OP.C | LED | 8800lm | 54W | 4000K | ≥80 | 3,0kg | L=2313, W=41, H=83mm | 85x95x2335mm |
| 399901.10.OP.C | LED | 9900lm | 61W | 4000K | ≥80 | 3,3kg | L=2601, W=41, H=83mm | 85x95x2625mm |
Photometric body
394400.10.OP.C